R2W Axis is no average form analysis database and software program: it's an elite set of software tools for those truly serious about improving their results. Our software is used by Australia's most profitable punters, successful horse trainers, jockey managers and bloodstock agents. 
R2W Axis includes:
Professional, user-friendly interface
Flexible subscriptions & expansion options
Industry-leading independently verified race data 
World-class form analysis tools
Learn what makes ratings2win Axis exceptional and the logical choice for you and your team below.

Our Commitment to Innovation ​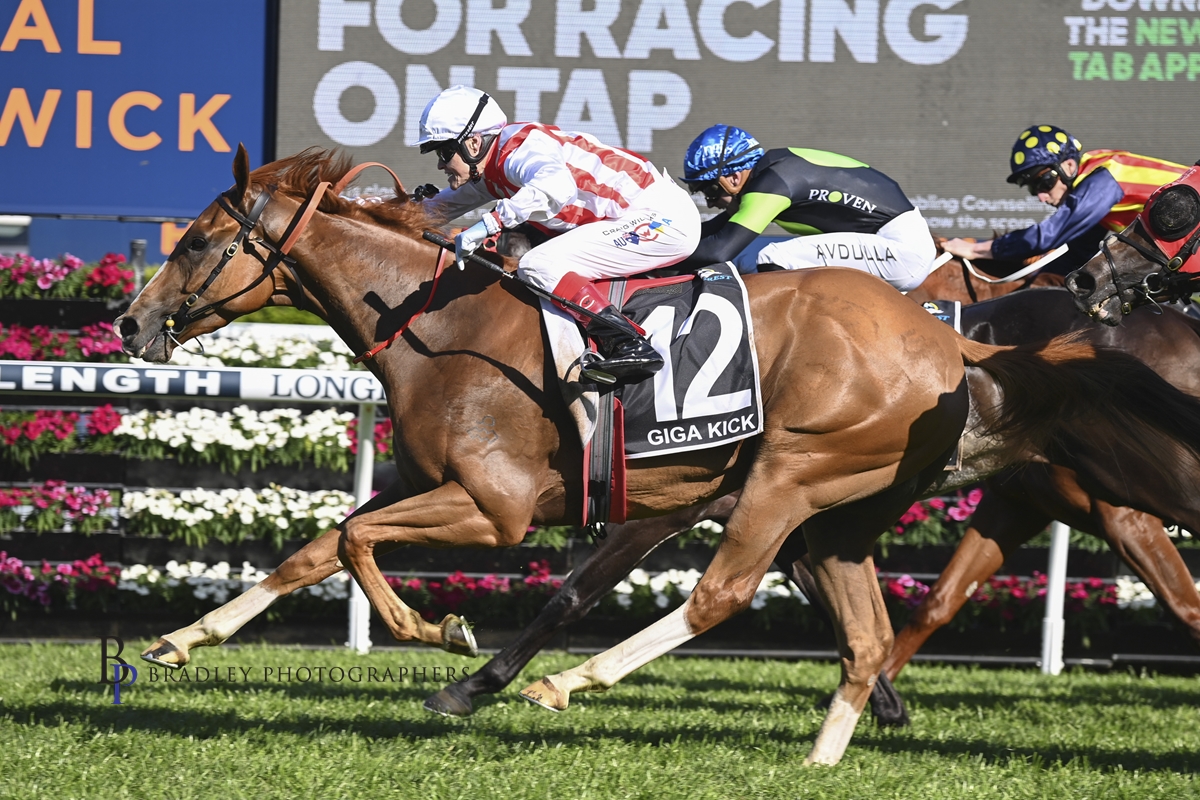 The R2W Axis Racing Analytics software and database is an incredibly powerful piece of technology. For more than ten years since our first public release, we have refined what has become the most sophisticated analytics tool in the industry.
R2W Axis is more than just a software program: it's a full suite of industry-leading professional features that is without peer. Our R2W Axis database software contains many key components that are proprietary and unavailable elsewhere. 
R2W Axis clients benefit from a collection of one-of-a-kind ratings, generated using our own advanced algorithms and fully verified data.
Unlike other providers, we continue to improve R2W Axis and add new functionality regularly. ratings2win leads the development of racing software innovation, and we don't believe in complacency. 
We take pride in integrating our clients' feedback and strive to remain at the cutting edge leading the industry.
It is no coincidence that many of Australia's leading horse racing professionals use R2W Axis as an integral part of their arsenal. Our practical approach to software development means that our valued clients continue to share in the best data and tools available.
As the leading name in horse racing analytics software, the features we create become industry standards from which others attempt to emulate without success.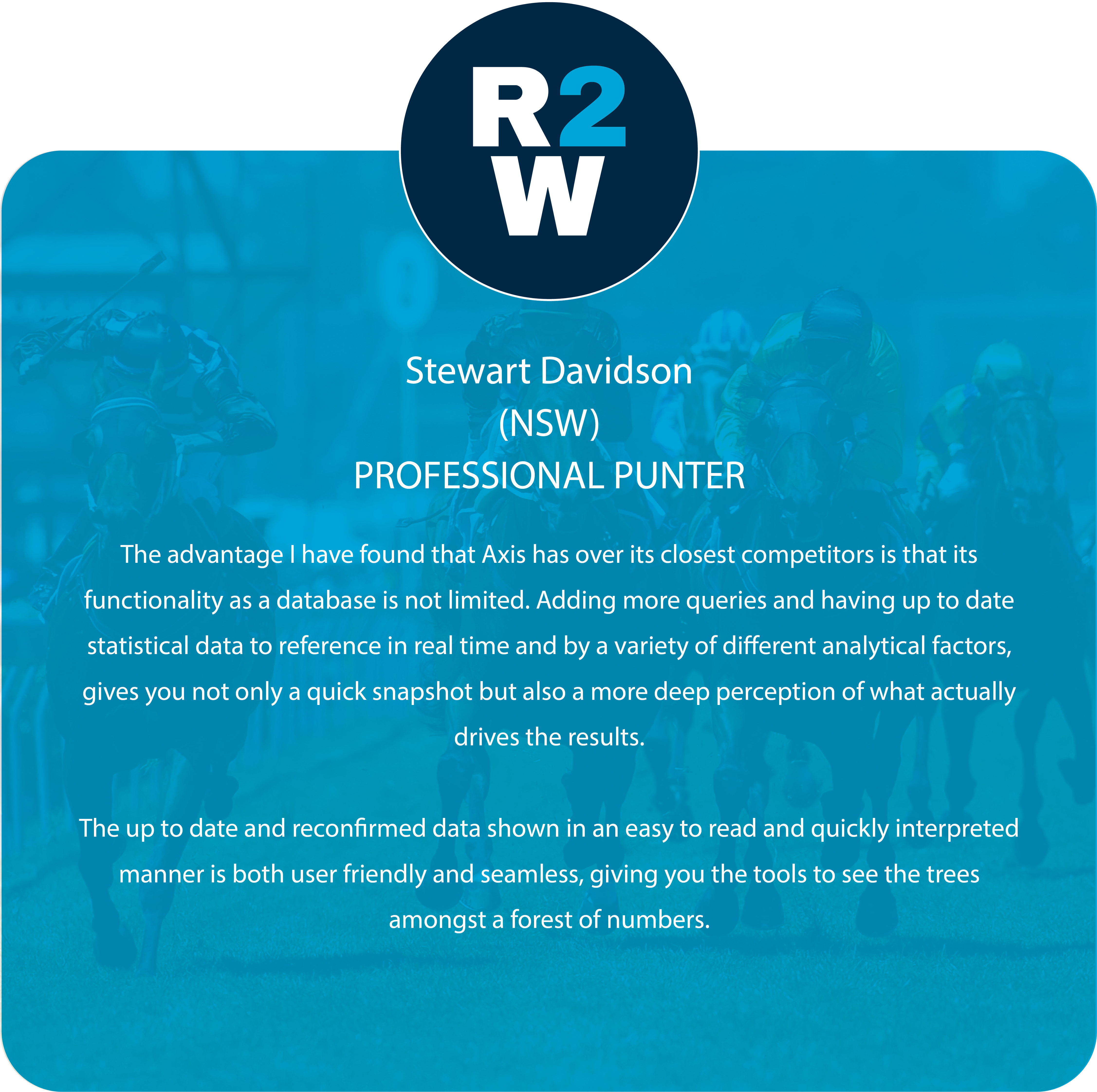 Fully Verified & Accurate Data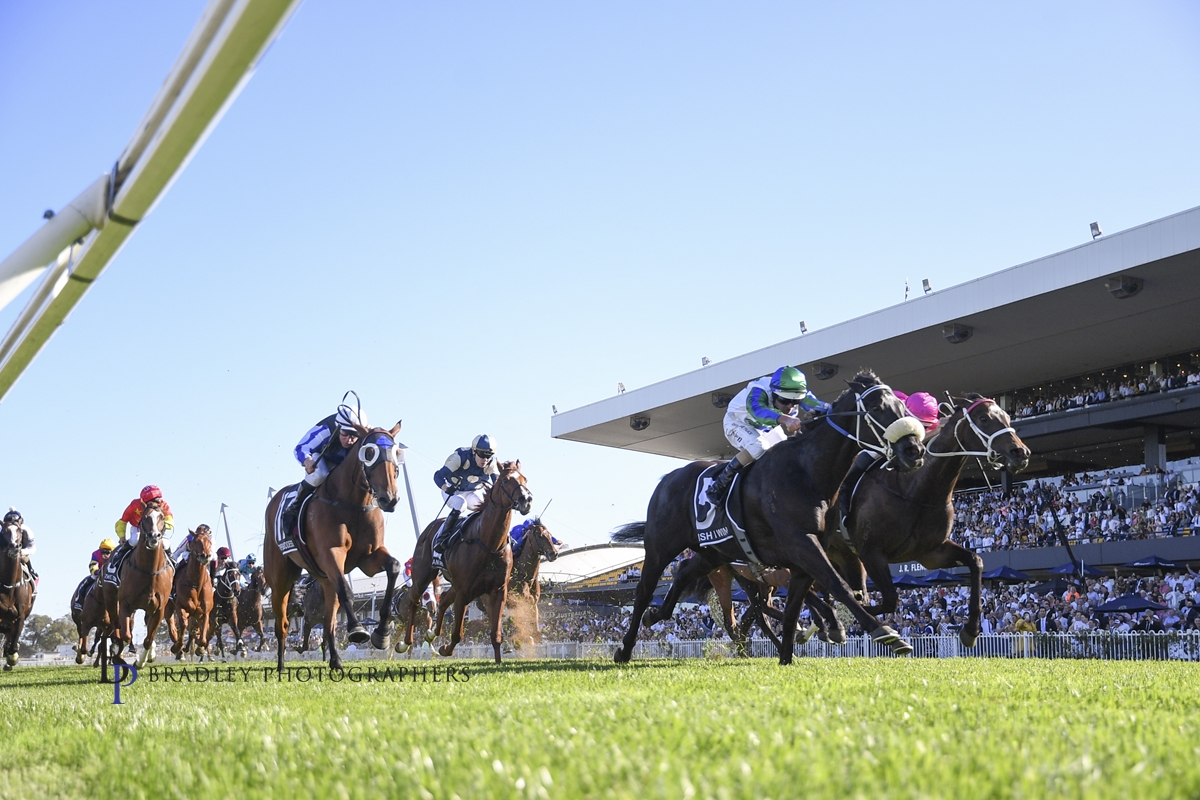 At ratings2win, our state-of-the-art R2W Axis software and database arm the discerning professional with fully verified race and trials data. This information isn't available anywhere else in the public domain, and unlike our competitors, we don't depend on official data, which is demonstrably inaccurate. 
During our years of extensive experience, we have accumulated in-depth knowledge of what makes ratings perform. We've learned just how inaccurate traditional form provided by others is, and it all starts with the accuracy of the data. 
We spend several hours a day correcting and compiling the data in order to correct and minimise error. It's all part of our commitment to ensuring our clients have the most up-to-date and accurate information. 
We confirm and cross-check:


All race/trial times and sectionals for each TAB race within Australia, Hong Kong and Singapore every day
Position in running (PIR) data 
Track Conditions/Speeds
Margins and Finishing Positions 
Jockey/Trainer names, allowances and overweights
Distances, Barriers, Tracks, Race Classes, Rail Positions, Pricing Data and more
That is why we are proud to have the industry's most accurate and fully verified race and trial data. In fact, we personally guarantee that ratings2win Axis is the most accurate software currently available on the market, and it has been that way since our inception.
Get in touch with us today to learn how the R2W Axis software puts revolutionary data and analysis tools at your fingertips.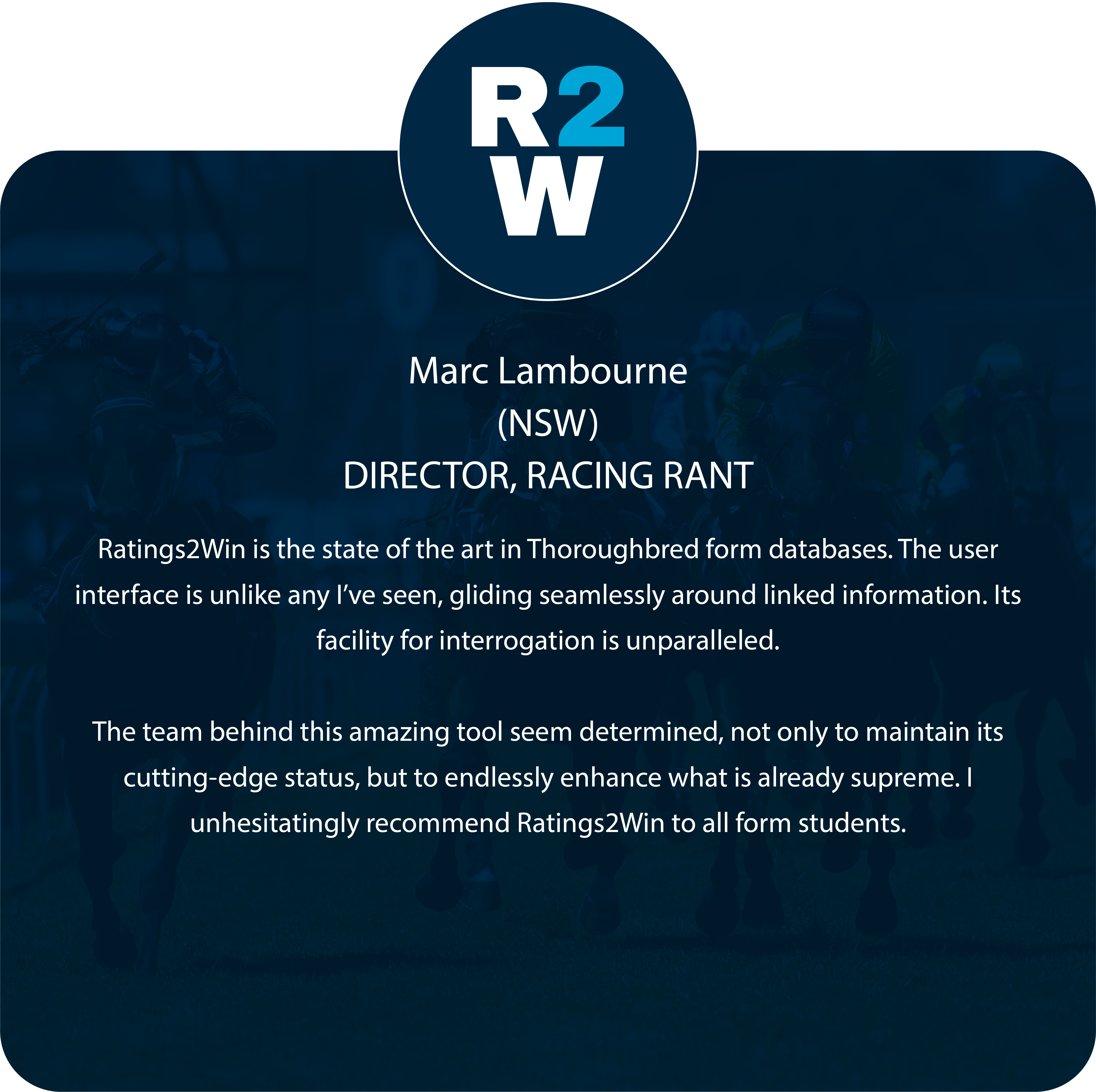 Exclusive & Elite for Professional Users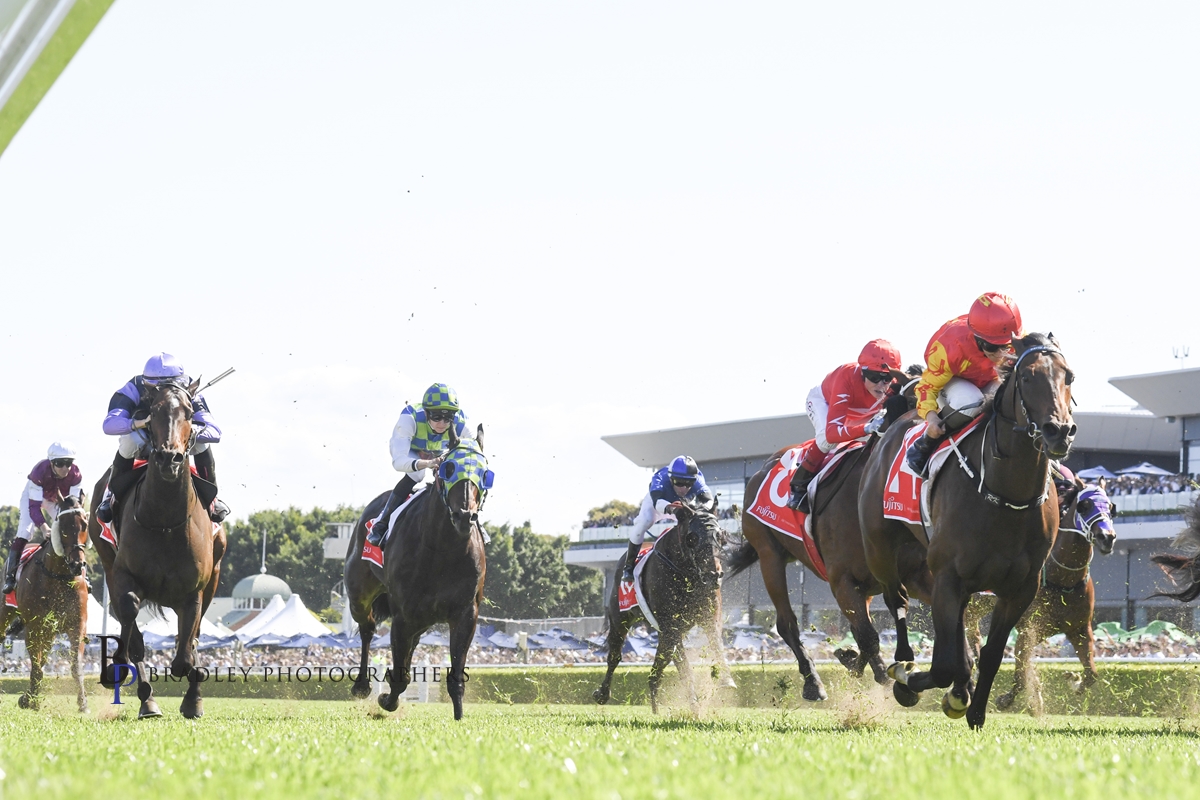 As an R2W Axis client, you are part of an elite group of clients, ensuring that using our innovative data and analysis tools sets you apart from the rest. We ensure that our software is only available to proven industry professionals looking to create a further, definitive edge.
Our software is used almost exclusively by the most profitable punters, successful horse trainers, jockey managers and bloodstock agents.
We pride ourselves on providing a world-class product to those looking to reach new heights with their analysis. As such, R2W Axis can significantly alter the horse racing landscape, which is why we have a strictly limited number of licences available.
Unlike others, we do not sell our data to corporate bookmakers and/or large betting syndicates, ensuring we protect our clients' interests, which of course includes ourselves.
In addition, R2W Axis provides the custom functionality that elite users require. R2W Axis gives you the ultimate control with the ability to filter, sort, collate and compare information as you please. 
Clients can easily integrate their race, meeting and horse comments using the Comments or Comments Plus features and make queries to our extensive and dynamic database.
The combination of cutting-edge features and a versatile interface makes R2W Axis the perfect tool for any dedicated horse racing professional. 
If you're looking to boost your knowledge and gain an information edge over your competitors, it is our belief that R2W Axis will meet the needs of even the most fastidious professional user.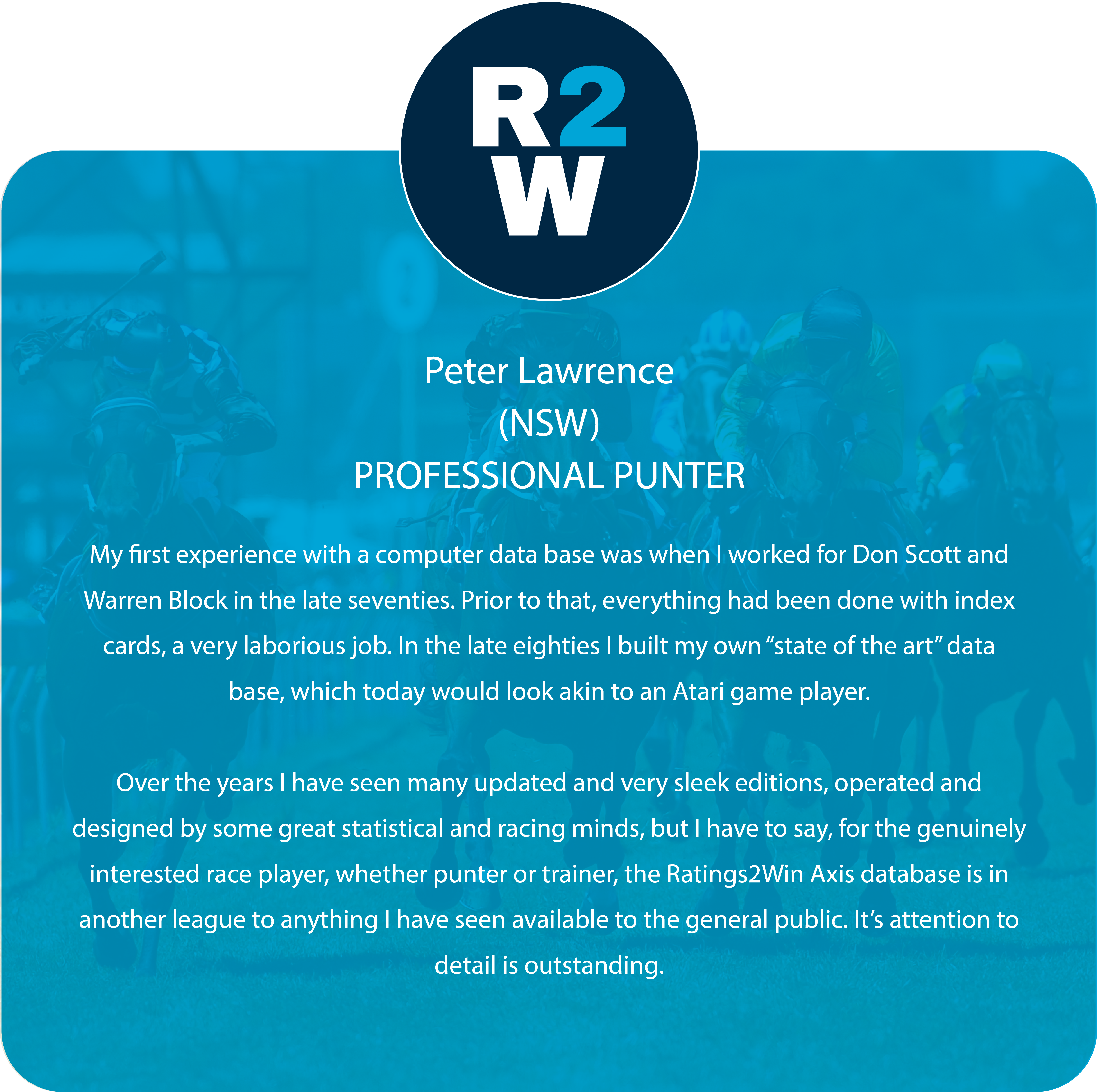 Industry Leading Client Support ​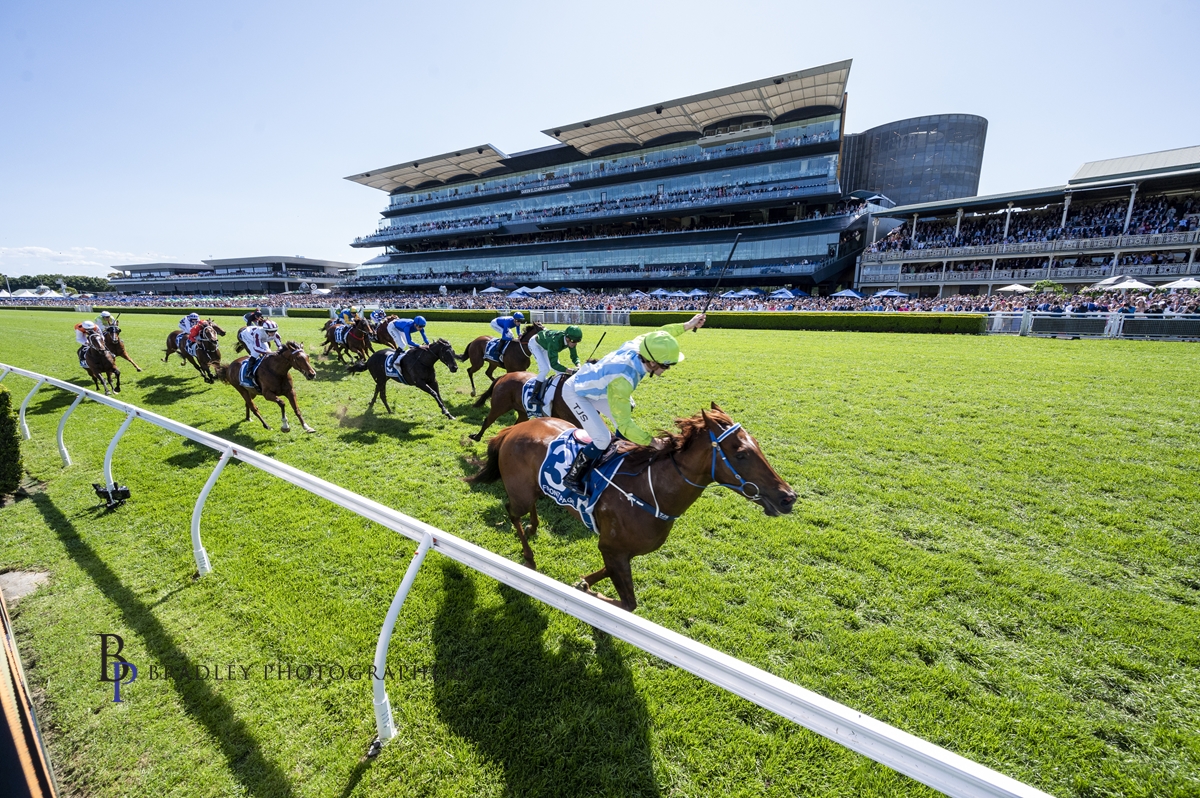 One factor that makes R2W Axis the leading horse racing analytics software and database is our dedication to prompt and effective service and support. We go to great lengths to ensure our clients get the support they need.
With a limited number of licences available, there is a finite number of active clients at any one time. Having such a manageable client base coupled with extremely reliable software means we can offer reliable service and support to our clients when they may need it. 
As the leading ratings and analysis software in the industry, it's essential that we assist our clients in getting as much out of our service as possible. 
Our unparalleled client support includes:
Client Evaluation: We assist you to get the most from the R2W Axis software. Our team works with you to select the subscription that is best suited to your needs and experience.
Installation: In addition to our step-by-step self-installation manual, we offer remote one-on-one R2W Axis software installation and setup.
Education: Our comprehensive online manual explains the software functions in user-friendly chapters. We also provide videos and articles on our website to further educate you in successfully using R2W Axis.  
Ongoing Development: As part of our exclusive client base, your feedback is incredibly important to us. We value clients' suggestions when further developing the R2W Axis software. 
The R2W team is personally available to any annual client wanting answers to their betting/form-related questions. The education section of our website contains relevant and factual advice that will help you refine your knowledge and practices.
With this knowledge, education and understanding, Ratings2Win empowers our clients to stay ahead of the game.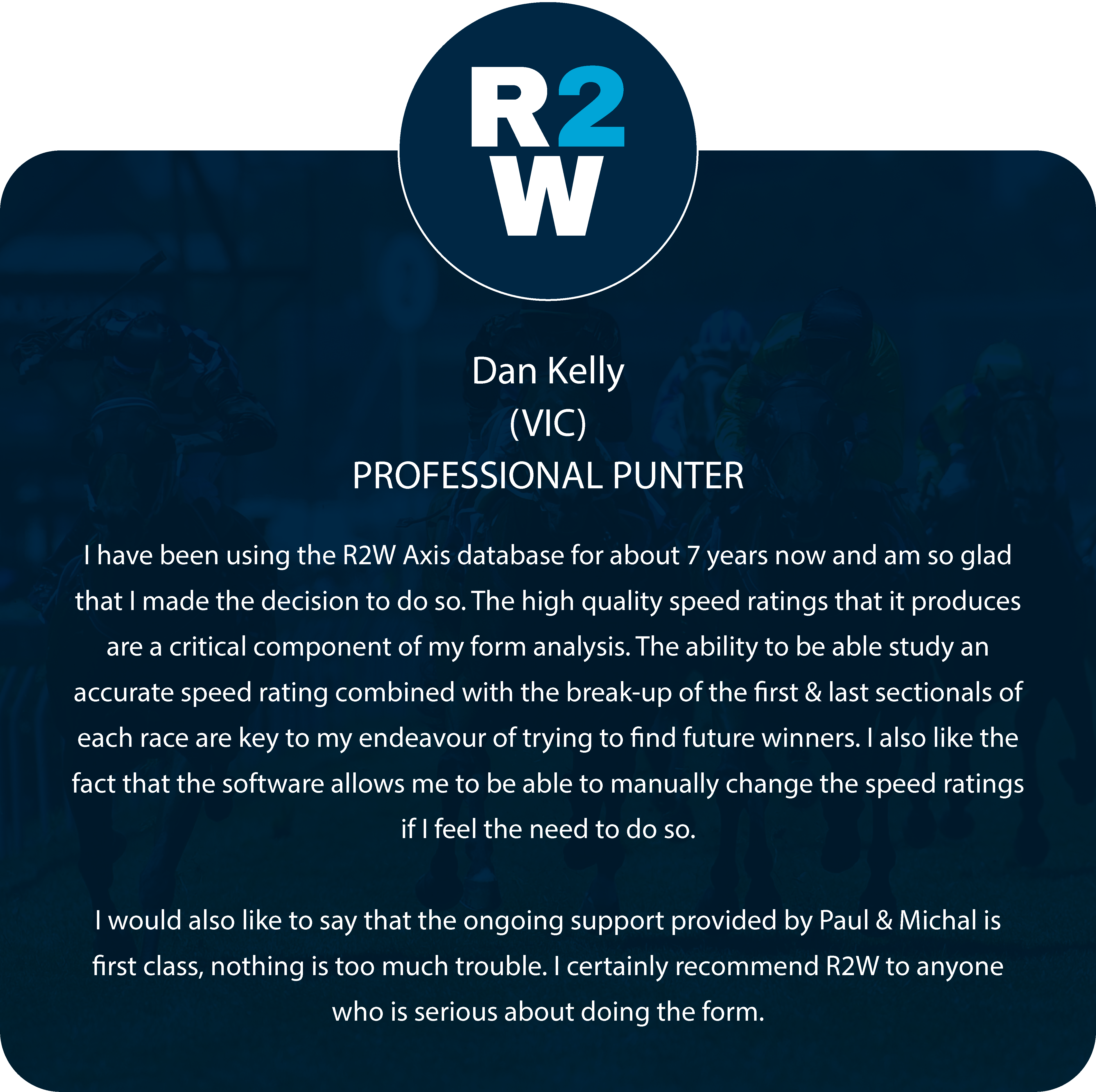 What the clients say about us?
My first experience with a computer data base was when I worked for Don Scott and Warren Block in the late seventies. Prior to that, everything had been done with index cards, a very laborious job. In the late eighties I built my own "state of the art" data base, which today would look akin to an Atari game player. Over the years I have seen many updated and very sleek editions, operated and designed by some great statistical and racing minds, but I have to say, for the genuinely interested race player, whether punter or trainer, the Ratings2Win Axis database is in another league to anything I have seen available to the general public. It's attention to detail is outstanding.
Ratings2Win is the state of the art in Thoroughbred form databases. The user interface is unlike any I've seen, gliding seamlessly around linked information. Its facility for interrogation is unparalleled. The team behind this amazing tool seem determined, not only to maintain its cutting-edge status, but to endlessly enhance what is already supreme. I unhesitatingly recommend Ratings2Win to all form students.
Your R2W service is outstanding and you and your punters are impossible to beat, I have the scars.
The advantage I have found that Axis has over its closest competitors is that its functionality as a database is not limited. Adding more queries and having up to date statistical data to reference in real time and by a variety of different analytical factors, gives you not only a quick snapshot but also a more deep perception of what actually drives the results. The up to date and reconfirmed data shown in an easy to read and quickly interpreted manner is both user friendly and seamless, giving you the tools to see the trees amongst a forest of numbers.
I have been using Axis for around 6 years. My favourite tool is the selection analyser. The ability to analyse all selections or bets placed over a period of time across around 100 variables is excellent. This feature has assisted identification of where the greatest profits are in my betting activities, and opportunities to refine selections and staking, assisting to further boost strike rate, POT and most importantly profit for myself and members following my services.
I have been using the R2W Axis database for about 7 years now and am so glad that I made the decision to do so. The high quality speed ratings that it produces are a critical component of my form analysis. The ability to be able study an accurate speed rating combined with the break-up of the first & last sectionals of each race are key to my endeavour of trying to find future winners. I also like the fact that the software allows me to be able to manually change the speed ratings if I feel the need to do so. I would also like to say that the ongoing support provided by Paul & Michal is first class, nothing is too much trouble. I certainly recommend R2W to anyone who is serious about doing the form.
I've never been a big 'stats' man so at first I was concerned Ratings 2 Win was just going to be a system that crunches ratings, jockey, trainer, track and barriers stats. Whilst I know their system can certainly perform all those stats related tasks, I can assure you that the Ratings 2 Win database is perfect for those who take a more 'old school' approach to their form study. R2W allows me to record all my race comments, both for individual horses, a race or an entire meeting in one easy go in their 'race review' section. The ability to view the entire horses career runs on one screen is just brilliant. It allows you to sort through the horses wet or dry runs with one click of the button, how they go at this point of their preparation with one button, their runs at the track etc. all with just one click of the button. The R2W database also uses verified race times which is especially important when looking at the times of the first and last section of a race – this is all included. Not to mention barrier trials, you've got all that information too. It's your one stop shop and you will never look back once you start!
Since acquiring the R2W Axis database I have achieved much more clarity in my form assessments. This more than justifies any costs associated with the package. I can only give a glowing report for the database and also to Paul, Michal and the team who are always accessible if any assistance is required.
Powerful Form Analysis Tools
The range of form analysis tools is part of what makes R2W Axis such a powerful software suite.
R2W Axis offers accurate performance & sectional ratings, rankings, wide/lanes data, margins from leader, track pattern/bias meeting and race analysis. Our software also includes proprietary form and adjustable speed maps produced from corrected times and sectionals covering all Australian, Hong Kong and Singapore TAB meetings, including barrier trials.
Learn more about our unique form analysis features below: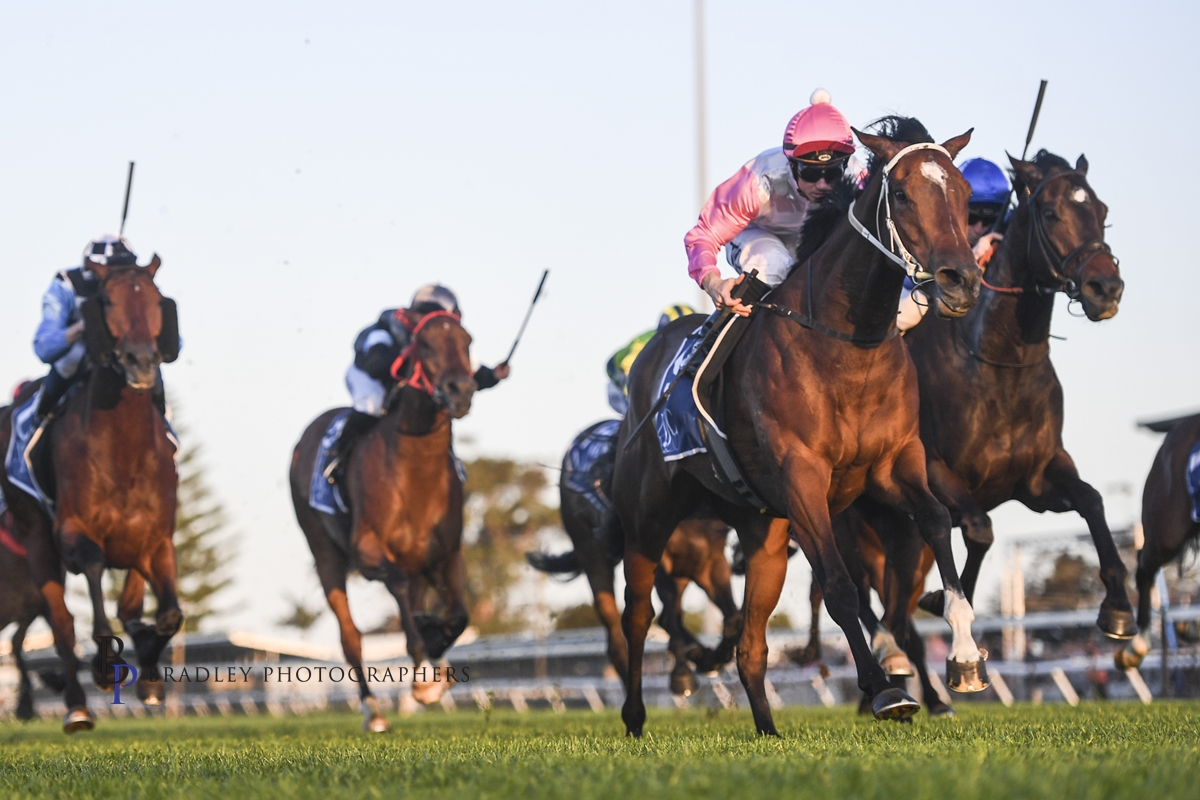 Get Started With Ratings2Win Axis
At Ratings2Win, we strive to develop long-lasting relationships with our clients, each of which is built around outstanding service, performance and trust. If you're ready to get started, reach out to us via Our Enquiry Form
If you have any queries, please don't hesitate to contact us at ratings2win. We'd love to provide you with a personal walkthrough of our software and analysis tools and answer any questions you have. 
We want you to be comfortable with your decision to allow us to become your trusted racing information and data provider.
To find out more about R2W Axis, get in touch with our team today.